A Sculptural Kit of Parts
PROJECT STATEMENT +
We read the same words, draw diametrically different conclusions, and proceed to live in alternately conflicting realities. What once was a tool for communication is now a catalyst for division. If the medium of language has lost it's function to communicate common meaning, does it now exist primarily as decoration? Can dialogue exist when words divide? What is the alternative to dialogue?
The Word Search Series investigates concepts of contradiction and loss of meaning through the use of a single sculpture made from many individual sculptures. Each viewer is invited to excavate the hidden poem(s).
The piece initially presents itself as a random collage of language, form, and texture, using white plaster as a sculptural canvas for light. Upon further exploration, the whimsical work unfolds as a methodically placed series of dark observational poems hidden within the array. The artwork exists as a machine for the contradiction between the medium and message.
The artwork is designed to evolve into new works, where each glyph module slides on a system of rails. New poems are composed on a regular basis.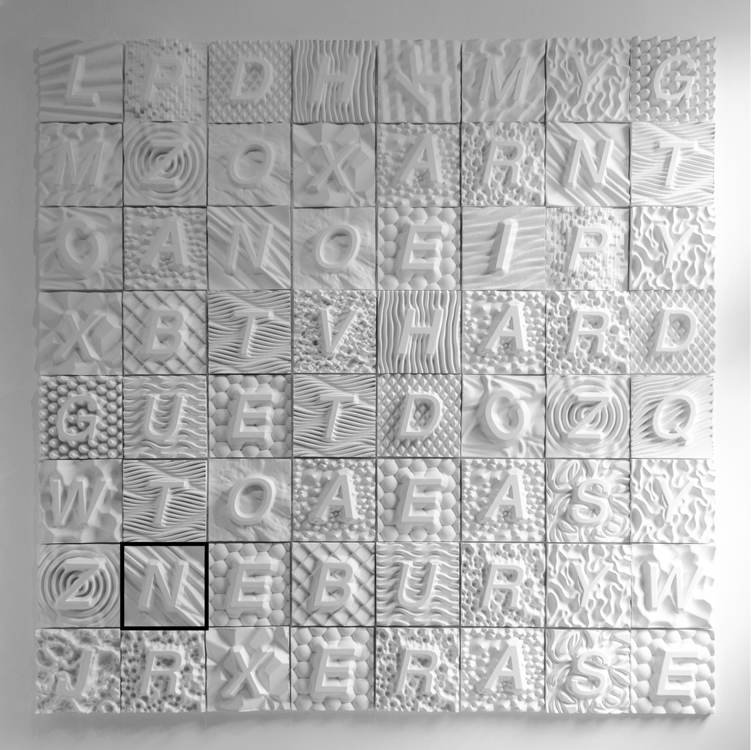 01_IMAGINE HEALING WHILE NAIVELY MARCHING/ 
INHALE ANGER EXHALE MERCY, 2021
Plaster, aluminum hardware, plywood panel
02_THE SEARCH OPENS A DOOR YOU CANT SHUT / WRITHING ALONE IS BEING, 2021
Plaster, aluminum hardware, plywood panel
03_NOTHING MATTERS | EVERYTHING MATTERS | HARD TO ERASE | EASY TO BURY, 2021
Plaster, aluminum hardware, plywood panel
04_HIDING PROVIDES CALM TO THOSE AROUND YOU / NUANCE IS A RELIC, 2021
Plaster, concrete, aluminum hardware, plywood panel
Digital Illustrations

​​​​​​​
SERIES 1: VIRTUAL INSTALLATIONS
MONOLITH, GALLERY, BILLBOARD 2021
PROJECT STATEMENT +
The Word Search digital illustration series dives into the concept of glyphs, exploring the fusion of art and nature's passage of time. Some pieces depict minimalistic glyph cubes hovering in natural settings, inviting contemplation with hidden poetry etched into their facades. Over time, these installations transform from pristine structures into weathered relics, telling a story of decay and change.
In another vein, the series presents a vision of dystopian signage where time has left these installations incomplete and worn. The original purpose becomes obsolete, as the elements inscribe new verses and phrases on their surfaces.
This collection aims to convey deeper themes of impermanence, evolution, and the interplay between human creativity and nature's transformative power. Through these illustrations, we explore the profound impact of time on art and the ever-shifting relationship between human intention and nature's influence.
AVAILABLE FOR PRIVATE AND PUBLIC COMMISSIONS
CREDITS +


Artist/Photography: Graham Kelman
Design Consultant: Jorge Parreira
Fabrication Partner: The New Motor
Digital Fabrication Consultant: Chris Malloy
Graphic Design: Joe Lovarco